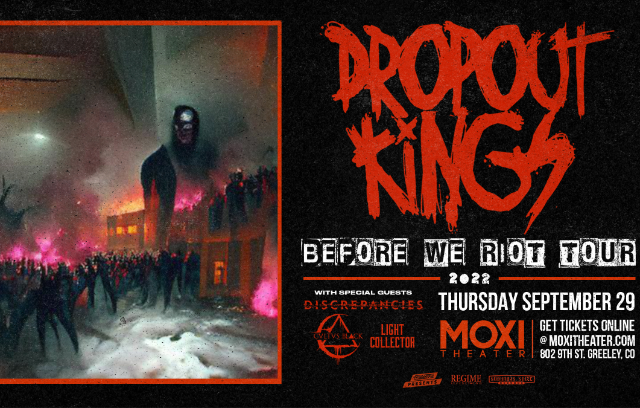 BandWagon Presents
Dropout Kings, Discrepancies, CVLTVS BLACK, Light Collector
Thu | Sep 29
Doors:

7:00 pm

|
Show:

8:00 pm
About This Event
Dropout Kings are a generational evolution of rap infused rock bands such as Linkin Park, fusing together heavy metal sounds with the progressive rhythms of hip hop and trap music. Dubbing it as 'Trap Metal', DOK prides themselves on pioneering and molding the genre, crafting unique soundscapes that feel familiar yet fresh and innovative. Songs like 'Scratch & Claw' feature impactful and introspective rap lyrics and haunting yet passionate vocals over polished, metal inspired, instrumentation, while 'Going Rogue' pushes the creative threshold of what a band can excel to be. Dropout Kings, formed in 2016, have already garnered millions of streams from their debut album, AudioDope, which was released August 10th, 2018 through Napalm Records. The group signed to the label before they even performed their first concert, confirming the band's raw talent and creative fortitude. AudioDope went on to receive rave reviews, being herald for it's refreshing yet nostalgic sound while blurring the lines between rock and hip hop. In 2019, Dropout Kings signed to Stay Sick Recordings and released the GlitchGang EP. In 2021, DOK signed with Suburban Noize Records and re-released the GlitchGang EP, only further cementing them as a force to be reckoned with. Dropout Kings are on a quest to make the world hear their story.


Moxi Theater is operating at Full Capacity
Reserve a Table in Advance Online.
All Responsible Ages Permitted
*PHOTO ID REQUIRED FOR ENTRY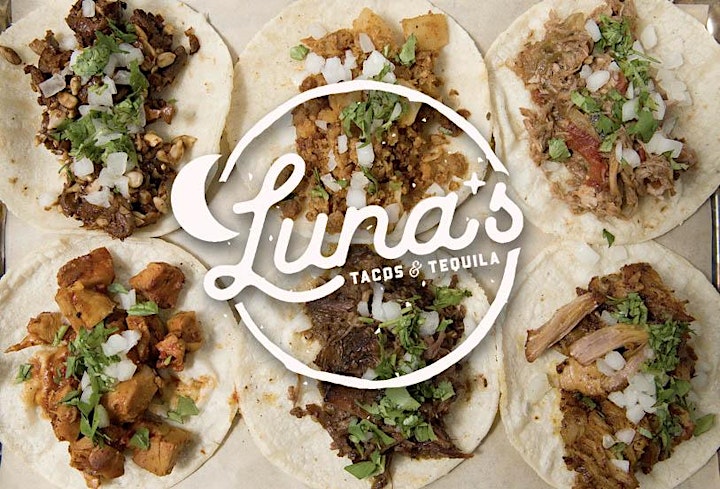 The Moxi Theater is proudly partnered with Luna's Tacos & Tequila in Downtown Greeley. Luna's is located at 806 9th St. - next door to the Moxi and is open for Dinner, Happy Hour, and Late Night. Luna's is the perfect place to eat and drink before or after the show!




Stella's Pinball Arcade & Lounge is Now Open in the basement of the Moxi. Get your game on at Stella's directly beneath the Moxi before the show. Now serving Burgers, Apps, Cocktails, Icee's, and fun for all ages. Open 6 days a week!

with
Dropout Kings
,
Discrepancies
,
CVLTVS BLACK
,
Light Collector
Artists
Dropout Kings
Songs like 'Scratch & Claw' feature impactful and introspective rap lyrics and haunting yet passionate vocals over polished, metal inspired, instrumentation, while 'Going Rogue' pushes the creative threshold of what a band can excel to be. Dropout Kings, formed in 2016, have already garnered millions of streams from their debut album, AudioDope, which was released August 10th, 2018 through Napalm Records. The group signed to the label before they even performed their first concert, confirming the band's raw talent and creative fortitude. AudioDope went on to receive rave reviews, being herald for it's refreshing yet nostalgic sound while blurring the lines between rock and hip hop. In 2019, Dropout Kings signed to Stay Sick Recordings and released the GlitchGang EP. In 2021, DOK signed with Suburban Noize Records and re-released the GlitchGang EP, only further cementing them as a force to be reckoned with. With their latest release and more tours on the way, it is clear that Dropout Kings are on a quest to make the world hear their story.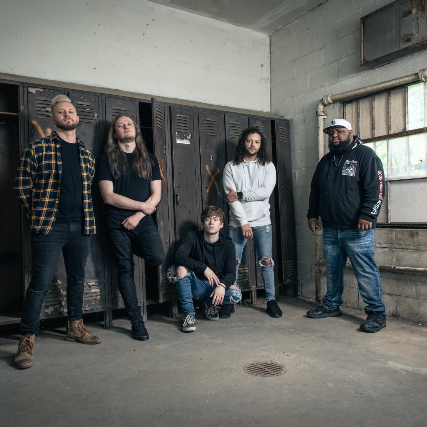 Discrepancies
Discrepancies, the Rap/Rock band out of St. Louis, have formed an undeniably powerful and innovative sound.
Comprised of Garrett Weakley (Bass), Addison Bracher (Guitar/vocals), Zach Allard (Drums), and Antonio Metcalf (Vocals) have formed a unique take on Rap Rock incorporating heavy riffs, soaring choruses, and breakdowns with intense lyricism and hip-hop elements. The 4 blend together many genres to create an innovative soundscape that is guaranteed to grab your interest and breathe new life into the genre. Pushing their debut single "Get Hype" out in January of 2014, the band found great success. The single was downloaded over 10,000 times throughout the rest of the year from their site alone. Their debut EP was released shortly after.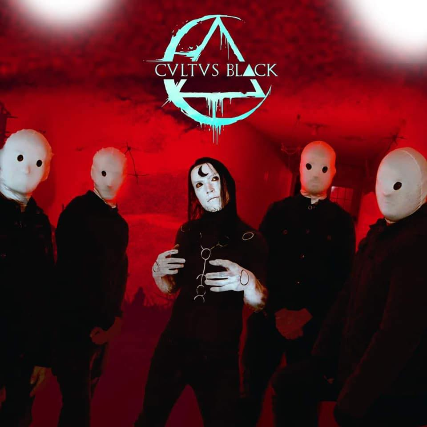 CVLTVS BLACK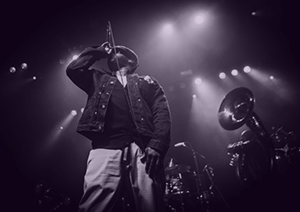 Light Collector