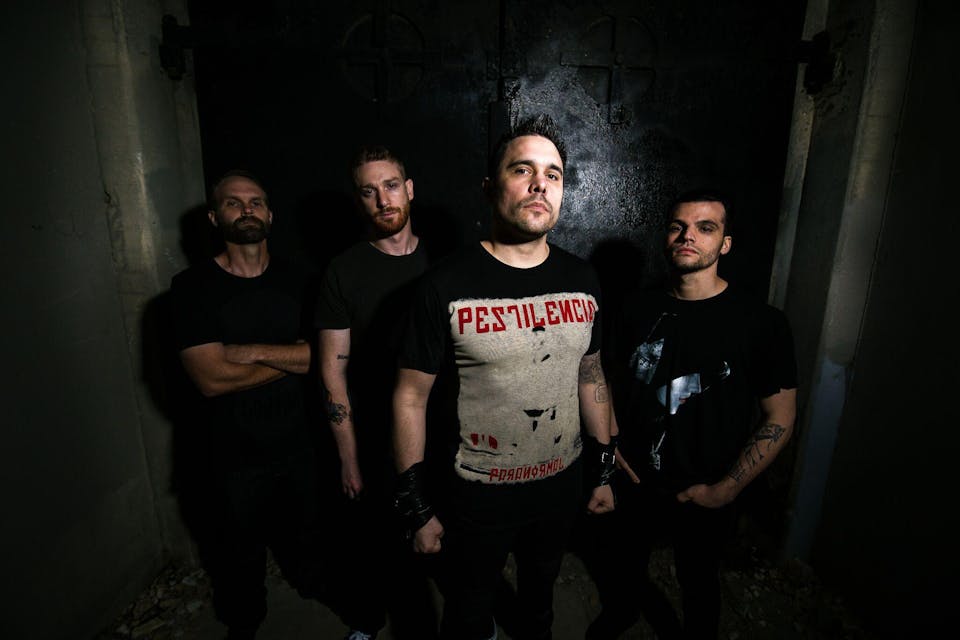 8:00 Doors | 8:30 Showtime | All Responsible Ages Permitted | Photo ID Required For Entry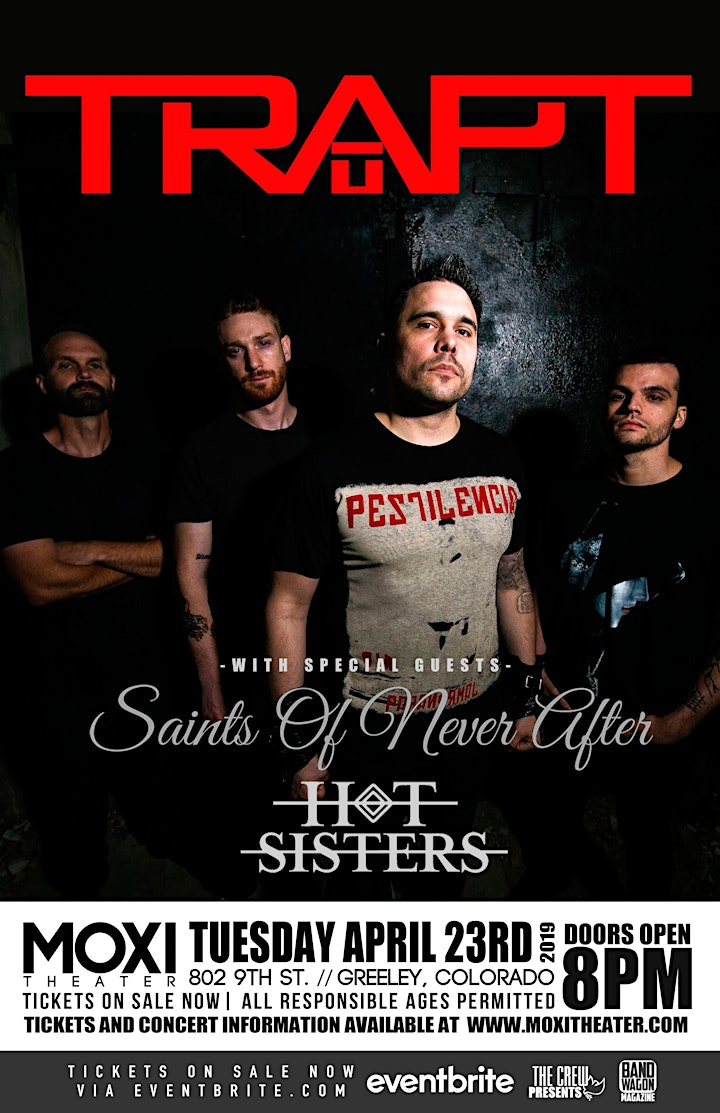 Trapt is an American rock band that formed in Los Gatos, California, in 1995, best known for its chart-topping 2002 single "Headstrong". They have released seven studio albums to date: Amalgamation (1999), Trapt (2002), Someone in Control (2005), Only Through the Pain (2008), No Apologies (2010), Reborn (2013), and DNA (2016).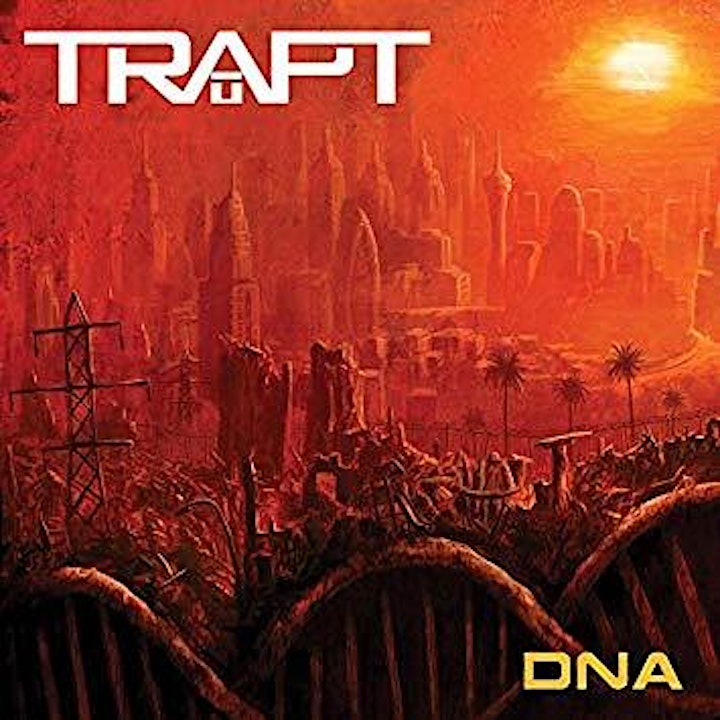 Get the NEW album DNA at bit.ly/TraptDNA and email traptpromos@gmail.com and we'll send you bonus track "Panic Room" Get a signed copy at any Best Buy!

MOXI THEATER FAQ

How old do you have to be to attend shows at the Moxi?

A: We are an ALL AGES concert venue. A valid government issued photo ID is required for entry. Children and minors without an ID must be accompanied by a ticket holding adult over the age of 21. Adults without a state-issued ID will not be allowed to enter.

"My child wants to attend a show at the Moxi, but I'm a little bit uncomfortable with that."

The decision to let your son or daughter come to a show at the Moxi is solely your decision. We are always staffed appropriately with security and have been operating an all ages venue for years. We welcome you to attend a show with your child so you can see how we operate and to hopefully make you more comfortable with letting your child join us alone in the future.

Do I need ID to enter the Moxi?

A: Yes. Without exception, a valid government issued photo ID is required for entry. Children without an ID must be accompanied by a ticket holding adult over the age of 21. Adults without a state-issued ID will not be allowed to enter.

Is there re-entry once I am inside?

A: Re-entry is allowed for patrons 21 and over ONLY. We do NOT allow re-entry for patrons under the age of 21. If you are under 21 and you leave the venue, you will not be allowed back in.

Is the Moxi handicap accessible?

A: Yes, the Moxi Theater is handicap accessible. Please have someone in your party notify a staff member at the top of the stairs when you arrive. There is an elevator is located just to the east of our front door. If you need any kind of help, please consult security personnel at the front door upon arrival to the venue for assistance or email us ahead of time at moxitheater@gmail.com

Where is the Moxi located?

A: The Moxi Theater is located at 802 9th St in downtown Greeley. We are on 9th Street Plaza, at the corner of 8th Ave and 9th St. We are upstairs, above the DDA Offices, Gentry Coin Shop, Keynote Coffee, and Batter Up Cakes.

Where can I buy tickets?

A: Tickets are available for all Moxi Theater shows online at www.ticketweb.com via www.moxitheater.com. You may also purchase tickets at the Moxi Theater during business hours (see here).

Can I bring my camera?

A: Regular phone cameras are usually fine but absolutely no SLR, detachable lens, or professional type cameras will be allowed inside the venue without prior approval. Absolutely no video recording devices of any kind will be tolerated without prior permission from the venue and band. Please send inquiries to moxitheater@gmail.com

Is there seating?

A: All of our shows offer general admission standing room only. Reserved tables are available for select shows. You must buy a reserved table ticket online to be guaranteed a seat. Reserved seating is not available for every show.

"What time should I get there if I want to sit?"

A: We suggest you be in line before doors open. Please keep in mind that no matter how early you get there, our limited seating is available on a first come, first serve basis. Reserved tables are available at select shows.

Will you book my band?

A: Please send any and all booking inquiries to thecrewpresents@gmail.com. Please provide as much information as possible. Please do not send physical materials to the venue.

Do you have a dress code?

A: No shirt, no shoes, no service.

Do you have a coat check?

A: No.

Can I smoke or use electronic smoking devices in the Moxi?

A: No. Colorado has an indoor smoking ban. Patrons 21 and over may smoke outside and re-enter the venue.

Is the time listed door time or show time?

A: The time listed on each show is the door time; the box office opens when the doors open. The box office is at the top of the stairs. Door and show times may vary.

Do you serve food?

A: Private parties and special events may have outside caterers providing food but the Moxi Theater does not have a full food menu at this time. Frozen burrito's and/or equivalent microwave fare is available upon request.

Where is the best place to park?

A: Parking is available at the Ice Haus, (located on the east side of 8th Ave), in the lot behind the Moxi, or on 9th St Plaza. Click Here for a crude map.

How do I get a job at the Moxi?

A: Send your resume to moxitheater@gmail.com. Please include detailed information about the position(s) you are interested in.

If a show or section says sold out, is it really sold out?

A: Yes. Please purchase tickets in advance online to avoid missing out. CLICK HERE TO BUY TICKETS ONLINE

Can you suggest a hotel?

A: The Clarion Hotel in Downtown Greeley is the only hotel within walking distance of the Moxi. They are located at:

Clarion Hotel

701 8th St

Greeley, CO 80631

970-353-8444

Does the Moxi have an e-mail list? How can I be included?

A: Yes. We send out weekly e-mail updates that include information on just- announced shows, yet-to-be-advertised shows, exclusive pre-sales, and warnings when certain shows are about to sell out. If you wish to be included please sign up by opting-in when buying a ticket in our online box office.

Does the Moxi have a text club?

A: Yes, please text "moxi" to 51660 to be the first to know about free ticket offers, exclusive presales, and new show announcements.

When do you announce new shows?

A: Everyday. Please visit www.moxitheater.com for upcoming events. You can also like us on Facebook and subscribe to our events to stay connected.

What is your refund policy?

A: All sales are final. There are no refunds or exchanges unless a show is cancelled.

What happens if my event is cancelled or postponed?

A: If your event is cancelled, please return to the point of purchase for refunds. If you purchased tickets online, your credit card will be automatically refunded within one to two weeks of the cancellation. If your event is postponed, your tickets will be honored on the rescheduled date.

Venue Information:
Moxi Theater
802 9th st
Greeley, CO, 80631