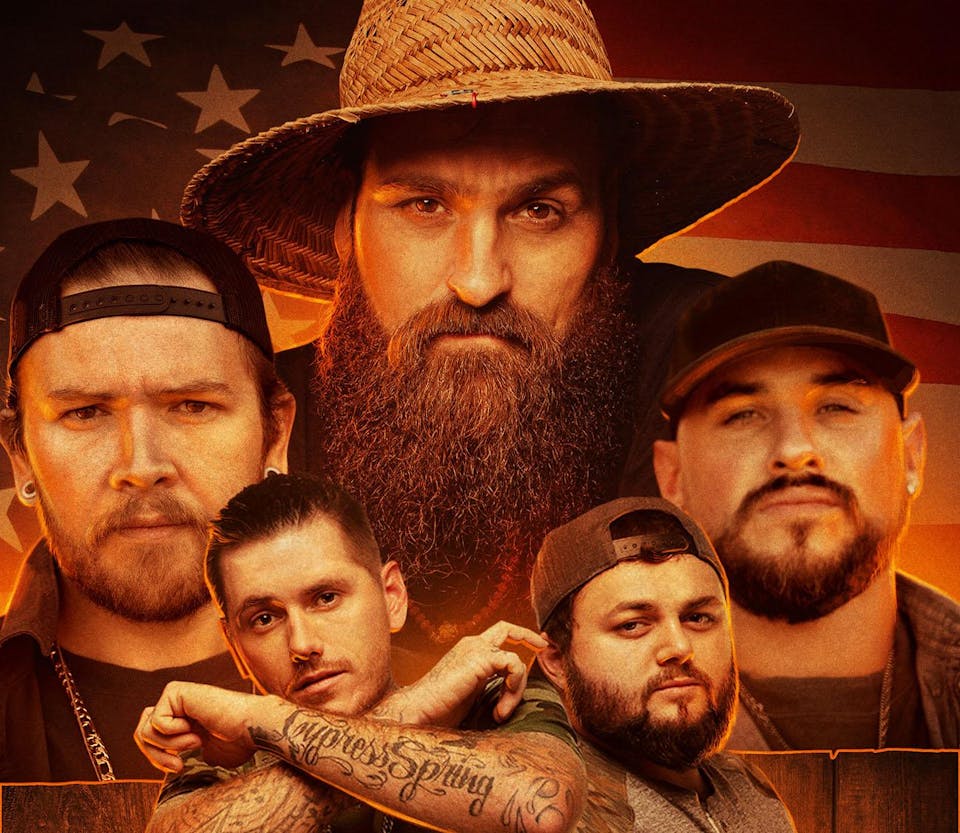 8:00 Doors | 8:30 Showtime | All Responsible Ages Permitted | Reserved Tables Available Online | *Photo ID Required For Entry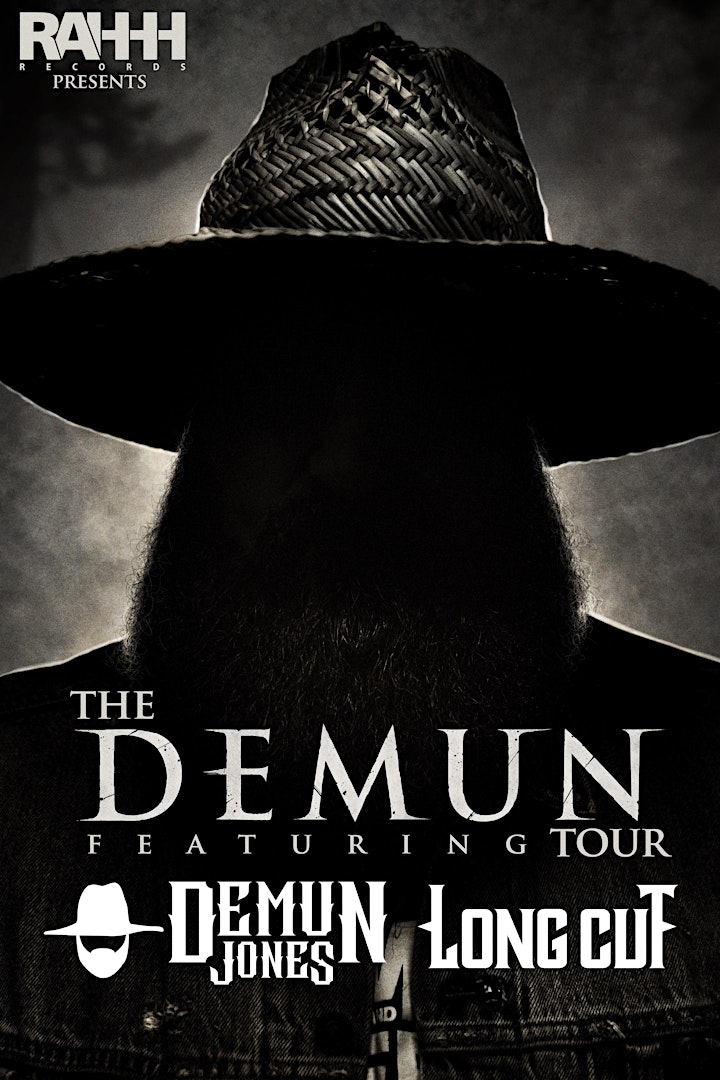 DEMUN JONES has always had a way of keeping it real when it comes to the music he has written, recorded and performed throughout his career, but, that said, JONES COUNTY might well be the most genuine collection of songs that represents who the Georgia native is and certainly illustrates the place where he's lived his entire life. Asked how the songs for his forthcoming solo project came about, Demun said, "I went out in my front yard and imagined what are they doing? What are they thinking? What are they going to do? What do I see?" Life in Jones County, which is just north of Macon, is southern and some, including the Jones family, will say they're rednecks. They drive trucks. They fish and hunt. They like keeping things simple—sort of a what-you-see is what-you-get type of place. All the same, Jones County is what you hear and Demun is hoping people who are from there will respect and love his latest collection of 12 songs, while people who aren't from around those parts will be "captivated by it and want to listen to it." Demun – a nickname he earned at a young age because he was aggressive and energetic – was 10 years old when he was transfixed by the immergence of N.W.A. and how they represented their own hometown. He's never forgotten how that seminal album affected a southern boy down in Georgia. He's always wanted to do the same for Jones County. "I've had inspirations that cover the whole gamut of genres," Demun said. His musical influences are not all southern or country. His oldest brother Chris introduced him to Led Zeppelin along with AC-DC and Black Sabbath, while his mother Cheryl introduced him to the likes of Marvin Gaye and other Motown acts, including James Brown and Michael Jackson. A ranch owned by Otis Redding is right down the road from where Jones grew up the son of a lifelong brick mason worker. He was the third of six children, who spent their hot summer days playing football in the front yard and frog hunting in a creek behind a hayfield that surrounded their modest home. His uncles introduced him to the southern rock soundscape of The Allman Brothers Band and Lynyrd Skynyrd. Back then Demun wasn't a singer, but he knew at a young age he wanted to do something musical. He started listening to hip hop and rap and was intrigued by breakdancing. That's when he heard N.W.A. That album was about Compton, for Compton and the whole world took notice. It was a musical documentary – sort of a bird's eye view of life – that Demun wanted to portray in his own autobiographical song selection for Jones County. "It gave me some hope that I could make my own music," said Demun, who wrote his first song when he was 15. "It took a long time for me to realize I could make country music without singing the whole time and still be for the country person." And that is exactly what Demun, whose vocal delivery is as intense as it is distinct, set out to accomplish with Jones County. The challenge was infusing his country inspired lyrics with hip hop grooves. Demun said the creative process often began with a drum beat or chord progression on the guitar, while – thematically speaking – each story was influenced by characters (friends, family and actual folks from the heart of Georgia) and the very experiences Demun had come across throughout his life growing up and living in Jones County, Georgia. "I tried to focus on music that was for people I grew up around," he said. No song is more familiar to him on Jones County than I'm a Man, which he co-wrote with the guys from I4NI and Jon Conner. It's about his father Ricky, 61, who has been laying bricks past 49 years. It's about hard work, ethics and honesty, but, more importantly, Demun said, "He's always wanted me to sing on a song and this is one of the first, you know what I'm saying, and it's about him." Demun added, "I had to do to it once I heard the demo and I did what I had to do to pull it off." He's already filmed a video for Tannerite – the lone fictional tale of what happens when some southern boys are playing with explosives and what occurs when they come across a Sasquatch – and Boondocks is another tune that's all-too-familiar to Jones and a legion of rednecks that Jones County speaks to. It's an actual place in Georgia, where Demun shot The Muddy Muddy video, in a 1,000-acre field in front of 5,000 people. "That's when I really understood who I was speaking to with my direction," said Demun, who went there to film a video and was so affect by the experience he wrote an entire song about it. It had rained all week leading up to the Fourth of July video shoot, but the weather was nice by show time and, of course, muddy. "It was redneck heaven," Demun proclaimed. For Demun, Jones County is a great place to live and Jones County the album finally illustrates his evolution as a person – he's married and the father of two girls, 3 and 4 – and as an artist. It's all part of the freedom of expression that comes with writing songs for a solo project. "It came natural once the process started," Demun concluded. "Jones County was the easiest album and the easiest songs I've written in my life." These songs might have come naturally to him, but Demun has been playing music for a long time – including a 10-year stint as a member of Rehab – and it's taken all that time for him to get to a point where he can write songs that represent his life as it is today. He extensively toured with Rehab band mate Danny Boone and co-wrote a lot of the Rehab material, including the critically acclaimed songs for Welcome Home. He also co-wrote Welcome 2 Jawga with the Jawga Boyz, who made an appearance on Jones County as do Charlie Farley, Bubba Sparxx and Locash Cowboys. Demun's first mainstream credit as a songwriter came on title track of Colt Ford's popular Ride Through the Country, which also featured John Michael Montgomery. - See more at: http://demunjones.com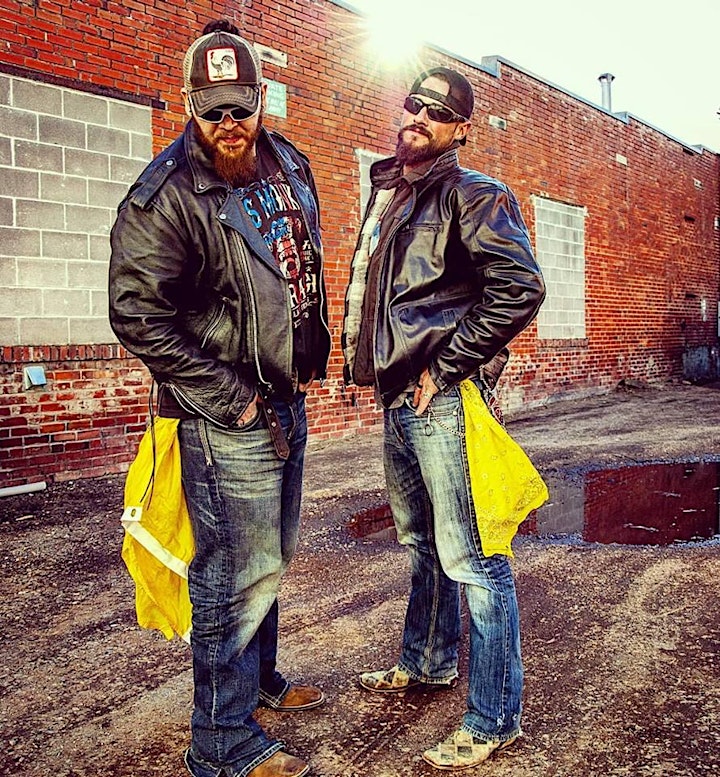 Long Cut is not what they expected! Bryan Thomas and JT Adams have come together with a New Breed of Country Rap that has started a movement that cannot be stopped! Welcome to the Spit Cup Posse!!!
After a SOLD OUT SHOW in 2016 Bryan Thomas and JT Adams were sitting in the living room as they had done so many times before. Playing music, writing lyrics, and buzzing from the show they had just played. It was years of work that had led them to this point in their careers. It was the first year Bryan Thomas and his band had began to sell out midsize theaters and it was at that time that JT Adams and his band started making a name for themselves on a regional level. The friendship that was in place started to become something special. The congruence and unity was unmatched in any project they had ever been a part of. As they sat on the couch relaxing and jamming, JT started rapping. Bryan had been playing shows with Demun Jones and had been interested in getting involved in a country rap song or project. They spent 2 years planning and finally the planets aligned and Long Cut was born!!!
Since inception, Long Cut has recorded 12 songs to release in the coming year and have already started selling out shows in Northern Colorado! Their fans share camaraderie and connection with the guys and are already turning into a dedicated following of all ages! The high octane fusion of hard hitting outlaw country and hip hop has the crowd going crazy! Stay tuned folks! This is something special.
Check them out at Facebook.com/LongCutOfficial, YouTube.com/c/LongCut, or on Instagram @LongCutOfficial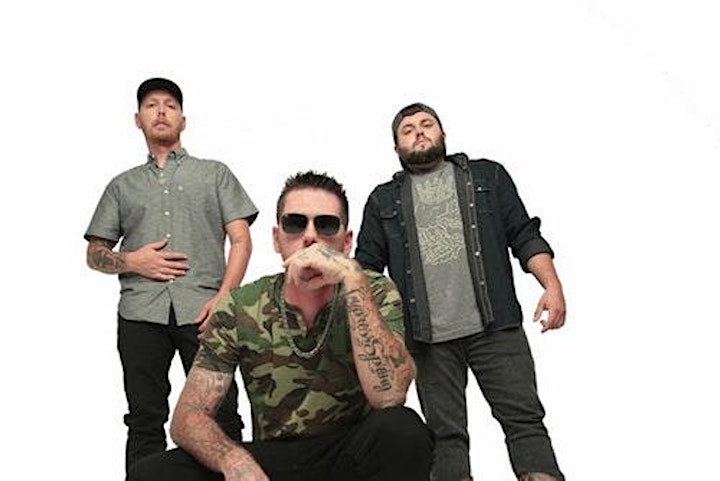 The idyllic Cypress Spring in Vernon, Florida is a summertime staple destination for local residents to cool off, hang out and have fun. Now, three natives of the 2-mile-long Florida Panhandle town are bringing Cypress Spring to the country rap scene. Paul Roche, Kalan Miller and Tyler Ackerman make up the trio aptly-named Cypress Spring and have big plans as they take on the genre with a "cowboy up or sit down" attitude.
At 16 years old, Paul was playing with his dad's southern rock band in bars before he was old enough to get in, covering songs by artists like Lynyrd Skynyrd and Merle Haggard. Kalan is a rapper, influenced by artists like Nelly, T.I. and Ludacris, who has always loved meshing country lyrics with a hip-hop beat. Tyler, a former high-school classmate of Paul and Kalan's, is a talented guitarist and vocalist who also co-writes many of the band's songs.
Paul, Kalan and Tyler are already making headway in the country rap genre. The lifelong friends grew up playing together in the dirt and now, budding artists, play together on stage.
Their small, southern town with a population of 750 and one total streetlight hugely inspires Paul, Kalan and Tyler's music. They spend much of their downtime going hunting, fishing, mudding and "shinedrating" – hydrating with moonshine. Their songwriting naturally reflects their inspirations and lifestyle. The trio spent a solid month writing for their brand new album, "Denim," and another week recording it.
Released on Nashville-based Average Joes Entertainment (also home to Colt Ford, The LACS, Montgomery Gentry, Sarah Ross and many others), this 12-track album offers songs about what's engrained in the souls of Paul, Kalan and Tyler; simply put, their way of life. The title track, "Denim," was a staple in Season 2 of the top-rated CMT Series, "Party Down South." Cypress Springs' engaging 20-webisode series, "Way of Life," has also given fans an inside view into the trio's everyday life and happenings.
You'll hear songs about dropping a tailgate, bumping a good song on a dirt road and being proud of where you're from. The hit single, "Way Of Life," featuring The LACS and Danny Boone, talks about Cypress Spring's southern lifestyle and how they're proud to live the life that they do. The corresponding video has already garnered 8 million views on YouTube and almost 11 million track streams.
"We have appreciated and loved music all our lives," said Kalan. "Finally, this is our moment to take what we've learned and our passion and share it with the world."
Boasting true country lyrics seamlessly melded together with a hip-hop beat, "Denim," by Cypress Spring is a must-have for any country rap fan looking to expand their collection. This is just the beginning for Cypress Spring.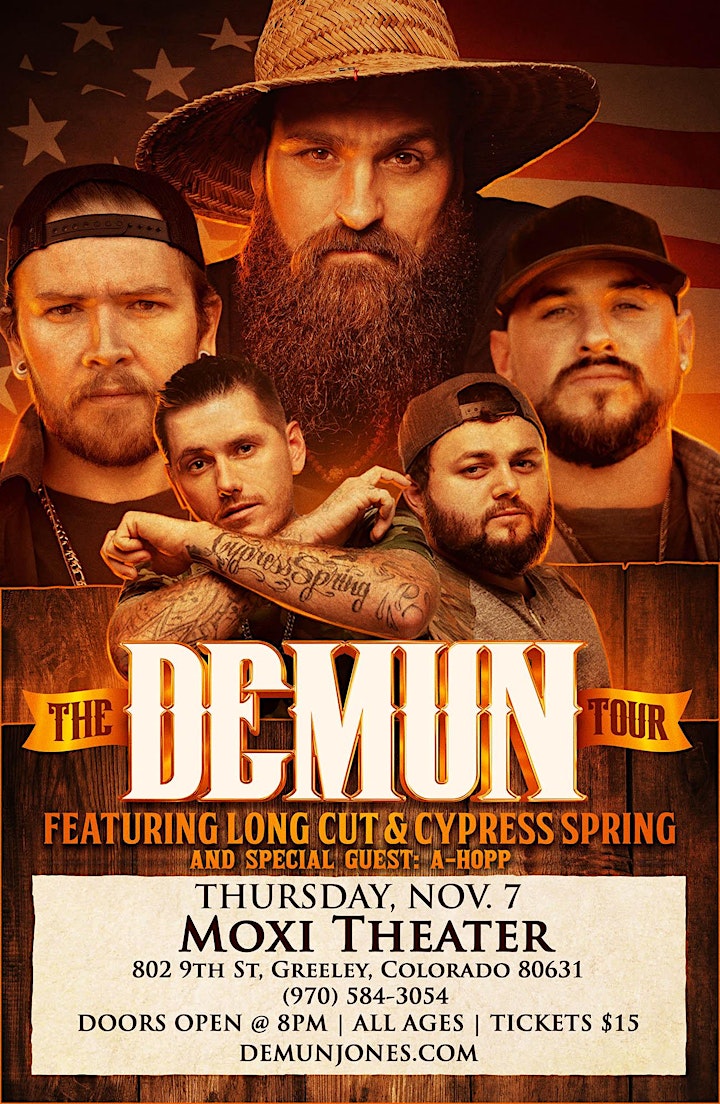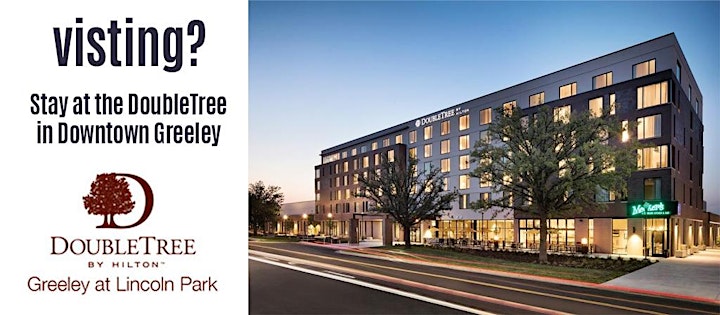 Venue Information:
Moxi Theater
802 9th st

Greeley, CO, 80631